理念與宗旨
非常作創辦人簡歷
Yang Hui-Chun, Juliana
工程管理碩士
樂觀進取,努力不懈!從學習到發展,我們以行業的背景,專業的教學,靈學活用的培訓方法,引領您認識化妝業,掌握專業技能,成功開展人生新一頁!
校長簡歷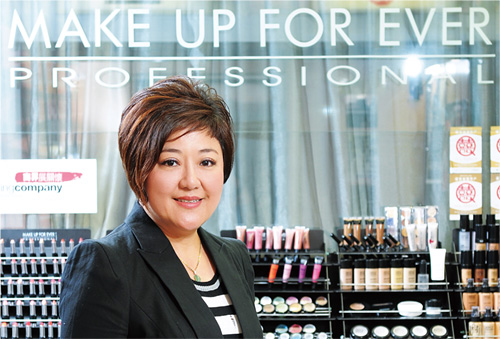 MAKE UP FOR EVER ACADEMY HONG KONG Principal
Master of Engineering Management University of Technology, Sydney

Education and Manpower Bureau Manpower Infrastructure Division, Competence Units Group, ITAC The Beauty Industry Training Advisory Committee. Chairperson 2015-2020

Vocational Training Council Beauty Care and Hairdressing Training Board Vice Chairmen 2012-2018

Hong Kong Council for Academic Accreditation HKCAAVQ Subject Specialist ( Make up & Beauty Therapy)
Education and Manpower Bureau Manpower Infrastructure Division, Competence Units Group, ITAC The Beauty Industry Training Advisory Committee Convener
Education and Manpower Bureau Manpower Infrastructure Division, ITAC, The Beauty Industry Training Advisory Committee Committee Member 2006-2014
Recognition of Prior Learning MechanismWorking Group 2010-2014 Education and Manpower Bureau Manpower Infrastructure Division, ITAC The Beauty Industry Training Advisory Committee, Convener 2010-2014
Vocational Training Council Beauty Care and Make Up Trade Test Working Group Convener 2010-2018
Employees Retraining Board The Beauty Industry Consultative Networks Committee Member
TWGHs Jockey Club Lei Tung Integrated Services Centre "I+O Styling Studio", Community Investment and Inclusion Fund Honorable Advisor
LiPACE, The Open University of Hong Kong Course Honorary Advisor 2007-2008
International Professional Make Up Artist Federation (HK) iPMA President 2004-present
The 8 th China Society of Motion Picture & Television Engineers Vice - Director 2004
Color Up The Future! Live Up Your Dream!
MAKE UP FOR EVER ACADEMY HONG KONG advocating "Swiftly learn, swiftly apply" approach to train, skills-based and market-oriented learning outcomes, providing different types of make-up opportunities to invite student who match the ability to participate, through real understanding of the industry, enhance their skills, gain experience and competitiveness.
The school has a strong business network, real opportunities include: international brands, wedding photography, advertising, modeling, magazine media, television and entertainment, stage performances, conventions and exhibitions, commercial activities, charitable services etc.
WHY? MAKE UP FOR EVER ACADEMY
Prestigious background and strengths, with global fame and recognition. The most stylish cosmetic brand under the LVMH Group in France, MAKE UP FOR EVER provides strong reputation to its academy globally. Students can enjoy free usage of MAKE UP FOR EVER cosmetics in class.
Global Joint School Network
MAKE UP FOR EVER ACADEMY headquartered in Paris, and transmits market information and Paris aesthetics without time difference and distance. Academy scattered around the globe, including Paris, Nice, New York, Brussels, Helsinki, South Korea, Shanghai, Hong Kong, Singapore devoted to train professional makeup artist with international standards.
Mixing the atmosphere of "happiness" and "knowledge", MAKE UP FOR EVER ACADEMY Hong Kong is open to professional makeup artists who are in pursuit of perfection, students who wish to enhance their skills and everyone who wants their talent and creativity to be seen. Through planning and organizing diversified activities, its uniqueness and international artistry culture can continue to flourish.
Here is our strength - the only makeup school in Hong Kong that has won "Couple's Favorite Makeup and Hairstyling Services" by ESD Life for 6 years, and we have numerous graduates who have enjoyed a remarkable success in bridal makeup industry.
We jointly organized "Professional Diploma in Creative Image Styling and Cosmetology" with The Hong Kong Open University LiPACE in 2007, with the certificate co-distributed by two schools. This course is also recognized as Level 4 in Qualifications Framework since 2008 (Registration number: 08/000300/4, valid since 5/5/2008).
Professional Teaching Team
All of our tutors are highly experienced with professional qualifications and of advanced education level, and all possess the ability to provide bilingual teaching. They are capable with designing makeup and hairstyling production of various types. Tutors are required to pass regular practical assessment to continually improve training and teaching skills. Together with conscientious and passionate working attitude, they form a strong teaching team in nurturing new talents for the industry.