從事影視娛樂舞台化妝 PMMA
Professional Media Make Up Advanced Certificate Course – PMMA
91802-1
Introduction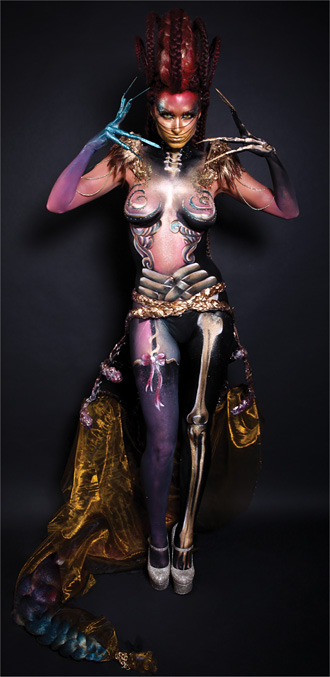 An Advanced Course designed to focus on the training of Professional Makeup Artist for the Performance, Film and Special Effect fields. This is a Study of International Film and Media Makeup, which is coherent with the Advanced Level of study of the Academy in Paris. From in-depth studies of Facial Features, to expressing various artistic makeup with use of Airbrush, you will gain profound knowledge and insight in the career of a Professional Makeup Artist and be ready to join the Big Picture!
Learning Objectives
The course is composed of theory and practical parts; tutor will walk you through the history of France and US Film, Preparation for Film Makeup, Color & Lighting, Advanced Makeup and Special Effect Technique.
Skills for Embellish Make up
Special Effect Preparation and Application ( Bullet wounds/Scars/Fake nose/Bald cap/Fresh wound/Aging…etc )
Airbrush Makeup Techniques Special Character Makeup ( TV/Historical ) Makeup for Singers/MTV/Dancers
PE/SE Course content
After completion of the Professional Media Make Up Certificate Course, you will be able to comprehend the important techniqueswhich are essential for TV and Film, and master your ability and compatibility of your career.
Duration:10 lessons
No. of Participants : 8-14 students ( 3-hour class )
Tuition Fee : HK$ 11, 500
Exam : Lesson 10. Divided into Theory and Practical.
Course Assessment / Distribution of Certificate : Please refer to P.12 key learning areas
Textbook/ handouts : Handouts.
Reminder
Free supply of cosmetics used in class (For hygiene reason, please bring your own makeup tools)
Student will be partner with classmate during in-class practice
Students are required to bring their models, make up products and tools for their exam.
Further Studies Advice :
Bridal and Banquet Hair Styling Certificate Course BH
International Professional Make Up Artist Diploma Preparatory Class IPD